The highest industry standards

SAFETY WITHOUT COMPROMISE
Will our unblemished record do?
SAFETY
For over 41 years of impeccable performance, it's clear we never compromise when it comes to your safety. Anderson Air has received the IS-BAO certification for achieving the highest Industry standards when it comes to our Flight operations, Maintenance, and Safety Management system.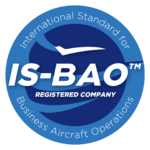 Additionally, Anderson Air has a Quality Assurance Program, sets Safety Performance indicators (SPI's) through the Safety Management System (SMS) and ensures we are exceeding compliance with industry regulations. One of Anderson Air's core values is to ensure safety is never compromised: It is top of mind in every activity, decision and service we provide. To deliver on this value, Anderson Air undertakes yearly multiple internal and external audits achieving the coveted IS-BAO stage 2 safety certification.
Our fleet of Citation Sovereign and Dassault Falcon 2000LX jets are maintained to the highest standards in the industry. Meticulous maintenance line checks are carried out on all returning aircraft to ensure 100% dispatch reliability. Our Transport Canada approved Maintenance Department has been recognized by IS-BAO and the Canadian Business Aircraft Association as a leader in quality for Aircraft Maintenance.
Our flight crews are full-time, ATPL licensed and undergo annual recurrent flight training to the highest standards of pilot proficiency.
From the front line employees to the company Management, we demand of ourselves that all aspects of our business are operated safely and in a professional manner. That's why we have adopted a formal Safety Management System, so that we may continually monitor and improve upon the safety and quality of our services.
Our absolute highest priority is your safety, and the security of your loved ones and associates.
Rest assured that once you're on board, we will take care of the details. Enjoy the luxury of the Citation Sovereign and Dassault Falcon 2000LX experience.